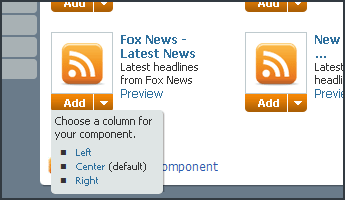 Select a category of interest (Business, Entertainment, News, Sports, etc.)
Choose from over 50 popular feeds including:
Fox Business News
Wall Street Journal – USA Home
iTunes Top 5 Songs
Fox News – Latest News
Wired – Top Stories
ESPN Headlines
Click Add to quickly add the new content to its default column on mywire, or click the arrow to add it to a column of your choice.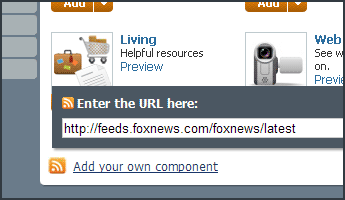 Click on Add your own component to add your own RSS or XML news feed to mywire.
Enter the URL for your feed and click Submit.
Choose a column and click Add.
Reminder - You can easily customize the location of your components on mywire!
Grab a component by clicking and holding your cursor over the component header.
Drag the component up or down within its column to your desired location.
Release the mouse button to lock the component into its new position.